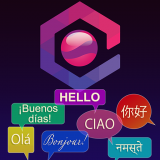 Description of FluentNow
Learn English by practicing with real people in 3D Worlds!

Gain early Access to a truly game-changing communications technology. FluentNow is the 1st Video game with Live Video Chat on your smartphone for learning a language or international culture. Once you sign up, we will send you a link where you can create a cool avatar, explore a series of 3D virtual world and see your peers in video chat.

FluentWorlds is the highest rated English language training App in the world- 4.9 on iTunes. The Company is now introducing their free, live version. With Fluentworlds, you can create your own avatar on your smartphone and speak live to people around the world. Learn their culture, learn a new language - help them learn to speak English.

Have you ever wanted to learn another language? Or perhaps you already speak another language and want to get better at it? What if you could do it live for free with another language learner in a video game on your smartphone?

FLUENTNOW allows a user, any time, anywhere, to access a live language companion as well as an instructor via their smartphone. The language learner can access 1 on 1 lessons based on their individual interests and career goals and the User and Tutors will be able to see one another live in a webcam, share-screens, and create THEIR OWN PERSONALIZED AVATAR. And with FluentNow, the user and the instructor can navigate together through over 7 different virtual worlds such as an airport, restaurant, hotel or even virtual Las Vegas so the learner learns in Context. ALL ON THEIR SMARTPHONE!


Good App Guaranteed
This app passed the security test for virus, malware and other malicious attacks and doesn't contain any threats.
FluentNow - APK Information
APK Version
00241
Android compatability
Android 4.1.x+ (Jelly Bean)
Developer
Privacy Policy
Permissions